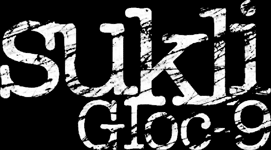 Sukli is Gloc-9 going back to basics. It is his first album with Star Music after 10 years and his first studio album in three years.
Sukli reveals how Gloc-9 remains exactly the same. He remains that songwriter who insists on making songs about the difficult and painful in nation, the things we would rather fall silent on, the stories we turn a blind eye to.
In Sukli, Gloc-9 also proves his continued evolution as rapper and musician, where he experiments with new sounds, refusing to easily fall into the conventional rhythms, the tried-and-tested music that makes for pop hits.
With Sukli, Gloc-9 proves that above the din of social media noise, despite all labels that he has been honored with, and the names he's been called, he is in the music industry because of one thing: because the stories of nation still need to be told, and so few dare tell it.
Sukli is now available at record bars nationwide and streaming on Spotify.